The beginning of our journey in sustainability
Working with 30 years of experience
Together with our customers, we care deeply about looking after the planet. That's why we have committed to taking action every time someone buys our product online, by including a donation that protects 5 trees per order. This is made possible through a partnership with MyTrees, a fun new UK initiative that puts the ability to protect & restore the world's forests directly into the hands of individuals.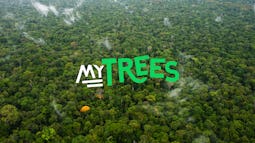 Conservation International
Through their global reforestation charity partner Conservation International, who have been restoring nature for more than 3 decades, MyTrees and Della Vite have set out to safeguard some of the world's most important natural ecosystems. Engaging with both governments and local communities, the charity's aim is to protect vital forests in the long term as well as support constant monitoring to prevent illegal logging and industry today. The donations support four key on-the-ground conservation projects; a tropical forestrestoration project in the Brazilian Amazon, the Alto Mayo Protected Forest in Peru, the Chyulu Hills in Kenya and the Cispata Mangroves in Colombia.